Its amazing to know about Snake day of Hindu and the whole nation is celebrating Nag panchami. This festival is observed on the fifth day of bright half of hindu lunar calander. The festival usually falls on month of shrawan. On the occasion, pictures of snakes containing mantras are pasted above the entrance of the house with a belief that doing so will keep snakes away from home.
People offer maize, milk, paste of rice and yogurt and believe that King of nag will protect them against snakes. People visits the nearby temple of Nag early morning and worship.
People visit Nag Pokhari, Taudaha of Kathmandu, Nagdaha of Lalitpur and Siddhapokhari of Bhaktapur as well.
There are many myths about this festival. They believe digging earth this day kill harmful snakes.
New update:
Nags are deity snakes or special snakes. Those snakes have especial roles in Hindu Mythologies.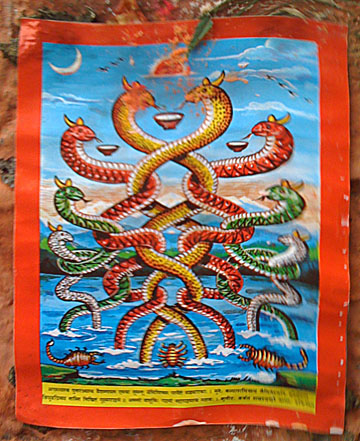 There are various mythological beliefs about Nagpanchami and its celebration.
Mahabharata tells that Lord Krishna conquered Nag Kalia and put an end to his evil deeds on the day of Shrawan Panchami. People believe that is the reason why people started celebrating this panchami as Nag Panchami.
Kathmandu valley used to be a big lake. Nags became very angry when human drained the lake to make it livable. To protect themselves against the anger of Nagas, people gave nags certain areas as pilgrimage destinations, and promise to worship them on the day, returning harmony in nature. That is continued till date.
Lord Bhrama's son Kashyap rishi had thirteen wives namely Aditi, Dit, Kadru, Danu, Arishta, Surasa, Sauravi, Vinata, Tamra, Krodhavasa, Ida, Khasa, and Muni. Aditi gave birth to Devta, Diti to Garud, Kadroo to Nags, Danu to Daitya.
Those Nags were the rulers of Patal lok.The great eight nags are Ananta, Vashuki, Padhmanavha, Kambala, Shankhapala, Dhartarashtra, Takshaka, and Kaliya. These Nags were very powerful and worshiped.
Comments